PRODUCTS

21" Heavy Duty Wire Hanger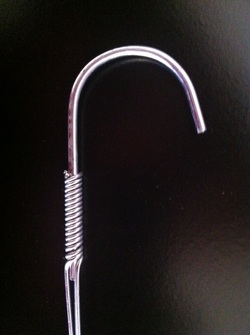 We take pride in our hangers. They are a product of the USA and are made from 100% US steel. The hangers are capable of holding any basket that requires a three-strand hanger and can hold over 50 pounds without the hook bending open, so heavier baskets are not a problem. They have a unique twist design that make them look amazing. The solid wire hook makes it easy to hang in any greenhouse.

The hangers are packaged in bundles of 50. There are 10 bundles per case (500 hangers).

Full pallets are available for larger orders. A full pallet will be 15,000 hangers/30 cases.


---
The 2ft. Hanging Flower Tower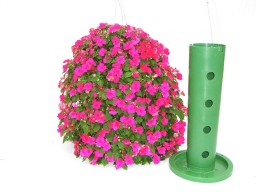 Grow amazing floral arrangements in this 2ft. tall hanging flower basket. The 2 ft. flower tower offers breathtaking blooms.
---
2ft. Flower Tower with Deck Ring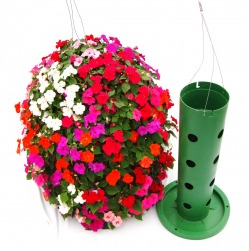 The 2ft. Flower Tower with Deck Ring allows you to transform the 2ft. Flower Tower into a pillar of flowers. Watch heads turn! Perhaps the most unique plant holder on the market today.
---
1ft. Flower Tower Extension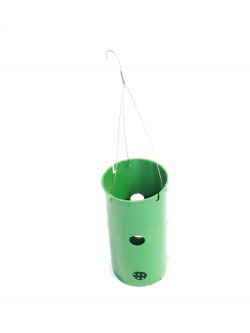 Attach this 1ft. extension to your 2ft. Flower Tower for added effect. This 1ft. extension can attach to the 2 ft. Flower Tower with deck ring as well as the 2 ft. Hanging Flower Tower. Creating one of the most unique hanging baskets you will ever find.
---
The 14" Flower Tower (Formerly the Super Hanging Basket)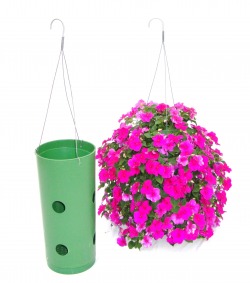 ---
The 12" UFO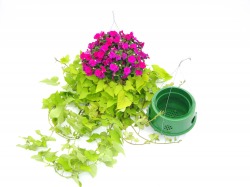 The 12" UFO is one of our most popular items. This product features 5 holes around the outside diameter of the basket. These holes and their upright positioning allow the plants to grown in a natural manner. Our water receptacle on the bottom of the planter allows for proper drainage of the plant while retaining runoff; therefore, reducing waste.
---
The 8" Mini-UFO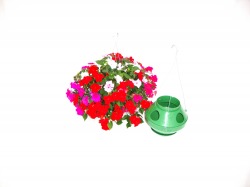 The 8" Diameter version of our traditional UFO. A smaller style hanging flower basket for locations where the traditional UFO or Maxi-UFO are just too large. This planter contains all of the feature as the traditional 12" UFO just in a smaller package.
---
The 14" Maxi-UFO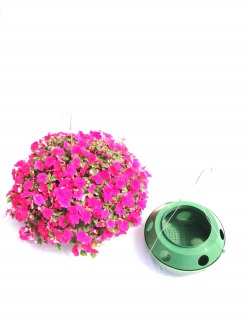 The 14" diameter version of our traditional UFO. A beautiful hanging flower basket that offers amazing blooms. These blooms are incredibly large, yet they keep their tight shape. This product includes all of the features that come with the traditional 12" UFO.
---